Posted by DM Supply Source on Nov 28th 2018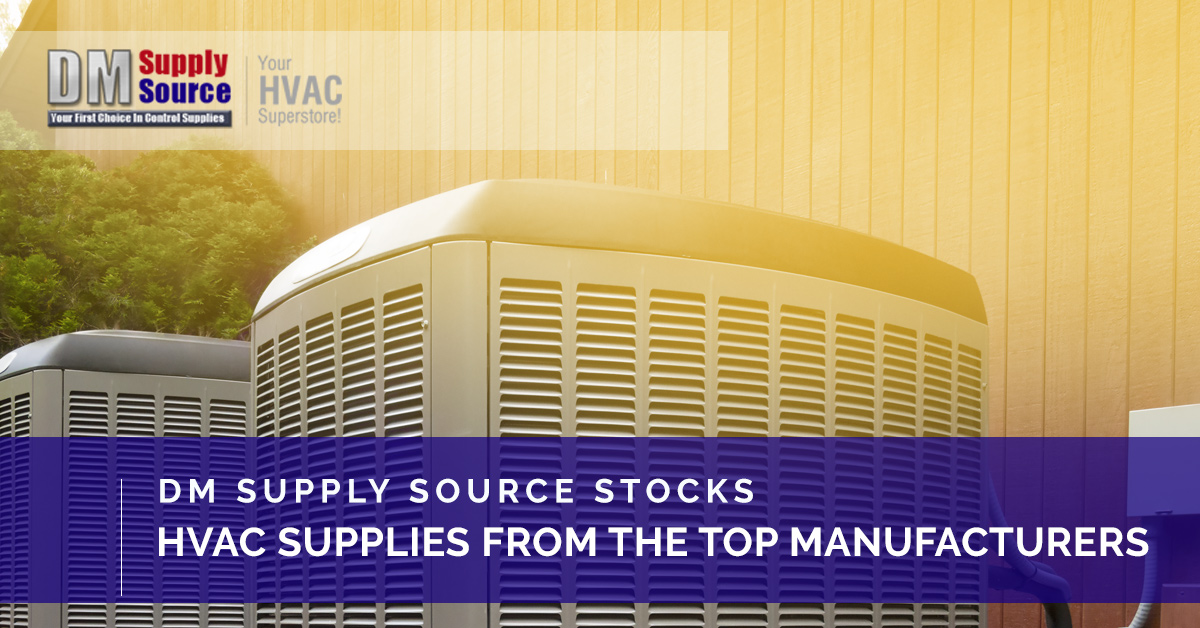 These days, DIYers and HVAC repair specialists alike are faced with a vast range of products and replacement parts. Whether you are utilizing these HVAC parts for your own system or you depend on them for your lifetime customers, it's essential to find manufacturers who can be relied on for every application. DM Supply Source is proud to be your Top Rated Local® HVAC supply store in Allentown, Pennsylvania, and we are happy to deliver quality solutions to customers nationwide.
Today, we'll highlight a few of our most trusted manufacturers. If you're because you are looking for a specific part, be sure to browse online or contact us today for complete assistance!
Quality HVAC Supplies Available Online
DM Supply Source is here to deliver a vast inventory of HVAC parts backed by our knowledgeable team. Precision is everything in this industry, and our team will work to ensure you have the right component for every job. We supply heating and cooling supplies from the top HVAC manufacturers, including:
Schneider Electric©
This HVAC supplier is looking to push the envelope for home energy management and automation. By focusing on quality components ranging from humidity sensors and voltage regulators to complete power systems, Schneider Electric is here to provide the right fit for every job. HVAC professionals can rely on Schneider for reliable results and precise control for every system.
Johnson Controls
Based out of Cork, Ireland, this company delivers a vast inventory of HVAC controls and experienced professionals to get the job done right. Named after the founder and the inventor of the thermostat, Johnson Controls is able to deliver reliable results with their sensors, transducers, controls, valves, actuators, variable speed drives (VFDs), and more. With a strong support network and versatile HVAC products, Johnson Controls has become a standard manufacturer for many heating and cooling suppliers.
Spartan Peripheral Devices
Despite the name's intentions, the Spartan team has been working for nearly 25 years to push the edge of innovation with wireless controls, including zone valves, system valves, and other control measures. Every product is manufactured with the customer in mind, delivering the highest level of performance for any HVAC team. As always, our HVAC supply house is here to provide the best outcome for every customer, relying on decades of experience and our vast inventory to achieve the perfect fit. Contact us today to learn more, and be sure to browse our shop for the HVAC supplies you need!

Siemens
This electrical company delivers efficiency and precision with all of its HVAC products. Known for reliable outcomes, Siemens supplies a variety of control systems and switches to deliver outstanding performance without costly power interruptions. Backed by an expert team and lead toward a sustainable future by innovative individuals, you can find a variety of products to fulfil any order.
Veris Industries™
Environmental sensing solutions help to power this company's vision toward an affordable, sustainable future. These high-quality HVAC supplies consist of versatile solutions for any system, including acquisition system data and control. Users can benefit from virtual metering and immediate data gathering for complete control in any system. DM Supply Source stocks a range of Veris products, including replacement elements, upgrades, full systems, and more. Browse our products to find the components you need.
Heat-Timer Corporation®
This company provides high-quality automated heating controls for HVAC professionals in a variety of applications. By following rigorous testing and quality control measures, experts at this New Jersey-based business deliver the best products formed from nearly 100 years of experience in the business. All of Heat-Timer's valves and controls are made to be the industry standard. Our HVAC supply experts can assist you in finding the right components and upgrades, including Modbus control enhancements.
Functional Devices, Inc.™
For more than 50 years, Function Devices has designed HVAC devices that are both simple and versatile. This HVAC manufacturer delivers a range of products, including combo-packages that incorporate current sensors, transducers, and relay combos in convenient packages for a complete installation. Our online HVAC supply store stocks all of the hardware and accessories needed for a quality outcome, ranging from mounting tracks to UPS interface boards.
DM Supply Source is here to serve as your top resource for HVAC supplies for every industry, including industrial, mechanical,and commercial properties, health care facilities, educational buildings, and more. If you are in need of assistance, be sure to call us at 877-927-3677 or contact us online!