Posted by DM Supply Source on Sep 27th 2018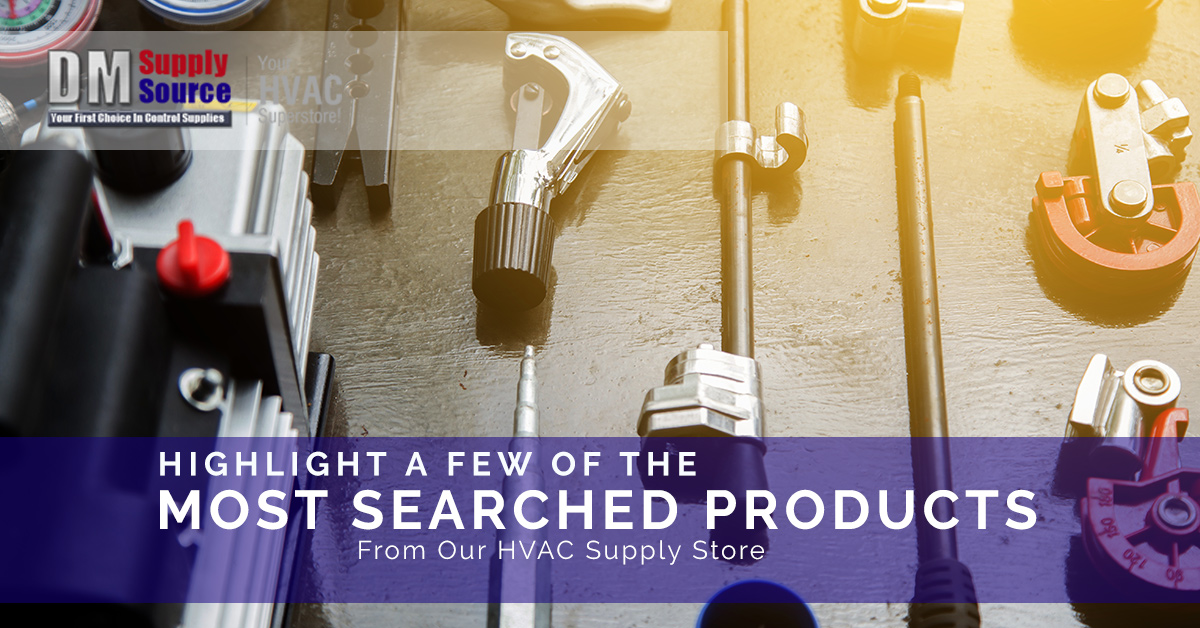 These days, it seems you can find HVAC parts online nearly everywhere. Sources from across the country and beyond can provide a wide range of HVAC supplies at wholesale prices, yet many fail to follow up with the right services or products when they are needed most. DM Supply Source is here to be your comprehensive supplier of HVAC products from a wide range of quality manufacturers. For years, we've provided top-notch heating and cooling supplies at an affordable price, backed by our comprehensive knowledge of the supplies needed to complete your projects.
As your Top Rated National® HVAC supply house, we're here to provide support and guidance in an industry where precision matters. Today, we'll highlight a few of the most popular products featured in our online inventory, as well as the value that our services can provide for your business. Be sure to shop online to find the right parts, or contact us for immediate assistance!
The WRZ Series
Johnson Controls features a wide range of modern HVAC products that aim to provide clean, clear communications for wireless room sensors. Your WTZ sensor will be compatible with several systems, including the ZFR1810 and 1820 Pro Series wireless field bus systems. Under normal operating conditions, these devices are designed to be safe for humans and versatile enough for use with numerous thermostats. Your WRZ device will also feature a setpoint adjustment for easy sensor calibrations. Clear communication with the network is essential for nominal operations as well, so be sure to follow your procedures carefully when setting DIP switches, modifying field controllers, and more.
This thermostat kit relies on ZigBee protocols for temperature transmitter data. If you need assistance in sourcing the right WRZ series for your wireless data demands, DM Supply Source can help.
TSMN Electronic Temperature Sensors
The right temperature sensor meter for your project will depend on a range of factors, so be sure to find the right parts for the job. A micronet room sensor, for example, will provide serious results in a low-profile design. You can mount these TSMN devices directly on the wall, in 2-by-4 electrical boxes, surface boxes, quarter-inch DIN-standard boxes, and more. Each Schneider Electric panel is designed to operate between 40 and 140 degrees Fahrenheit.
RKSR-4000 Temperature Control Systems
This product, commonly purchased through our AC supply store, features precise control over an air conditioner's pneumatic systems, including valves, dampers, and more. Schneider Electric's RKSR-4000 features complete results for many competitive receiver-controllers with only minor adaptations required. Our universal pneumatic receiver-controller from SE delivers precision when adjusting the:
Temperature
Humidity
Pressure

V-9000-500 Actuators
This device allows for precise positioning over the entire range of the actuator stroke. Featuring supply, input, and output gauges, the V-9000 series is intended for use in precise applications where a pneumatic control valve actuator is needed. This pilot positioner is available for reliable operations, providing stable results in moderating the energy conversion process. You're left with an efficient, reliable HVAC system that provides a majority of your direct digital control.
BGB Controls
Featuring a spring return actuator, this device is intended for use in controlling the dampers in HVAC systems. The BGB series from Johnson Controls utilizes direct-mount approaches to give users easy access to their control system, resulting in precise control over multiple zones. Plumbing professionals can implement this device — along with a variety of other HVAC supplies — to deliver an optimal airflow that directly benefits the building's inhabitants.
Veris TSD Series
Featuring a quality finish and precise measurements, this temperature sensor can be flush-mounted or recessed for aesthetic quality. This device is a 10k OHM Type 2 Thermistor, delivering accurate measurements for precise control throughout the home. DM Supply Source is here to help you source a wide range of HVAC products, including the TDS1, TSD0B, and more. Contact us today for assistance in finding a precise component for your needs, or shop now to begin!
Shop Now
As your trusted HVAC wholesalers, DM Supply Source provides the equipment you need for an industry where precision matters. We stock hundreds of thousands of products, and our HVAC supplies are backed by a highly trained components division. The DM team is here to serve as your nationwide temperature control device distributor, and our commitment to customer service ensures quality results on every job.
Contact us today for direct assistance, or be sure to browse our shop to find the right parts!