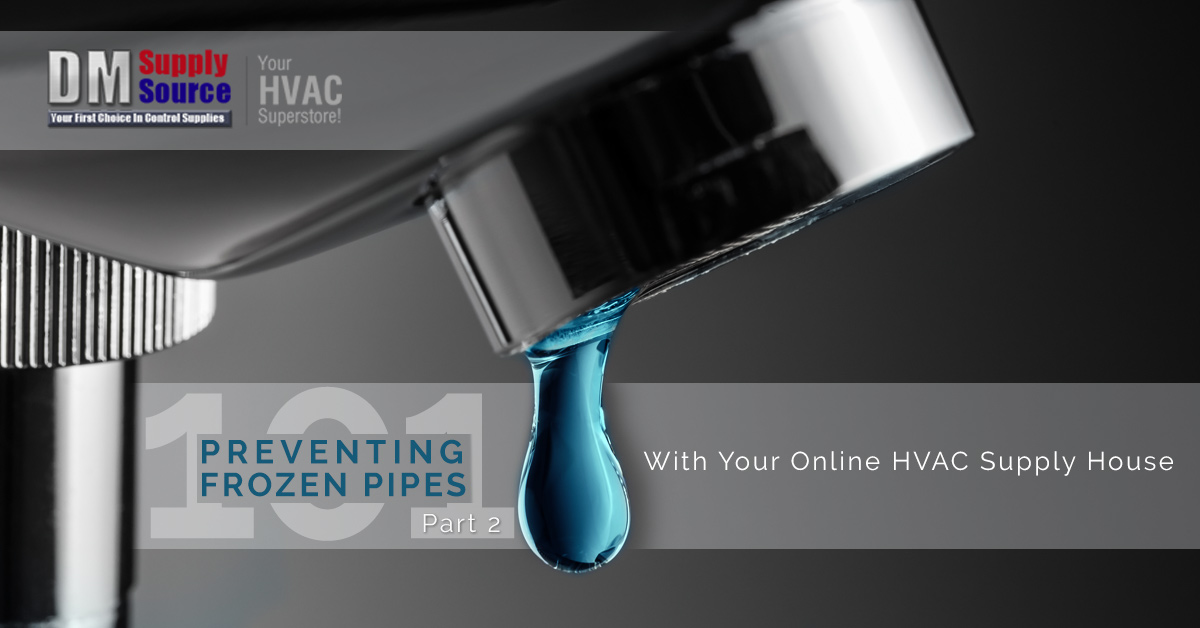 Winter is still here to stay, and many HVAC systems across the country are at full speed generating heated air to keep homes comfortable through the worst weather. For businesses and residences alike, it's important to have the heating and cooling supplies that are needed to keep your furnace running safely and efficiently. Residents and industry professionals both need quality HVAC supplies in order to create fast and efficient repairs. Without an HVAC supply house such as DM Supply Source as your provider of heating and cooling controls, devices, and replacement parts, you or your customers could be left in the cold. We're proud to offer the highest quality HVAC parts online, coupling our expansive industry knowledge with our amazing customer service to ensure you get the right product for the job.
While winter can drive up your monthly energy costs, failing to keep your home adequately heated through the cold season can cause your pipes to freeze, creating serious problems for your home and your bank account. Today, discuss a few more tips that can help homeowners defend their pipes from freezing.
Let Your Faucets Drip
Those who are currently dealing with faucets that freeze up can work to prevent bursting issues in your home's plumbing system. When water freezes, it expands. Running your water will keep the pipes from pressurizing, as pressure is the reason that ice can burst pipes. Be sure to run your faucet to keep it from bursting. While temporarily helpful, we recommend seeking out other solutions to prevent freezing.
Add More Insulation
Areas such as the attic are more exposed to the elements and pipes in this area can freeze if they are not properly insulated. However, cold points anywhere in the home can arise when insulation is not properly installed. If you find that certain spots in your water line are dealing with draft problems, be sure to add more insulation where appropriate. You can place more insulation in your ceilings and walls to enhance the overall protection of your home. This measure can greatly help in preventing frozen pipes.

Focus on Air Circulation
When the temperature drops to extremely low levels, it's important take extra measures to prevent your pipes from getting too cold. Remember that the lines in your cabinets are not exposed to the heated air from your vents. Rooms that are often too cold can also dip too low in temperature. Be sure to open up your cabinet doors and bedroom doors to allow for adequate air circulation.
Protect Exposed Pipes
One common problematic occurrence stems from pipes and lines that are not properly fitted to the home's exterior. If any holes, cracks, or gaps exist near your lines, we recommend that you seal up these spaces before temperatures drop further. By caulking any holes and placing foam around gaps, you can block out cold air at its source. This will provide a number of long-term benefits as well, insulating your home from the outside elements year round.
Utilize Top-Quality HVAC Supplies
While relying on a quality HVAC supply house may not seem like a helpful factor in keeping your pipes from freezing, it's important to remember that your home needs to be heated to at least 55 degrees Fahrenheit to adequately protect water lines from freezing. If your HVAC system were to break down, time would be very limited for finding the right HVAC products and repair services to restore heat. Failing to find the right parts or advice can be very costly, which is why we recommend our HVAC wholesale services to homeowners and industry professionals alike.
DM Supply Source has proudly served as your top provider of HVAC supplies online. Our knowledgeable staff go through extensive product training to keep each employee up to date on the best HVAC parts and practices. We're here to provide products and guidance when you need it. Contact us today if you are looking for assistance or search our shop for the parts you need.