Posted by DM Supply Source on Apr 30th 2018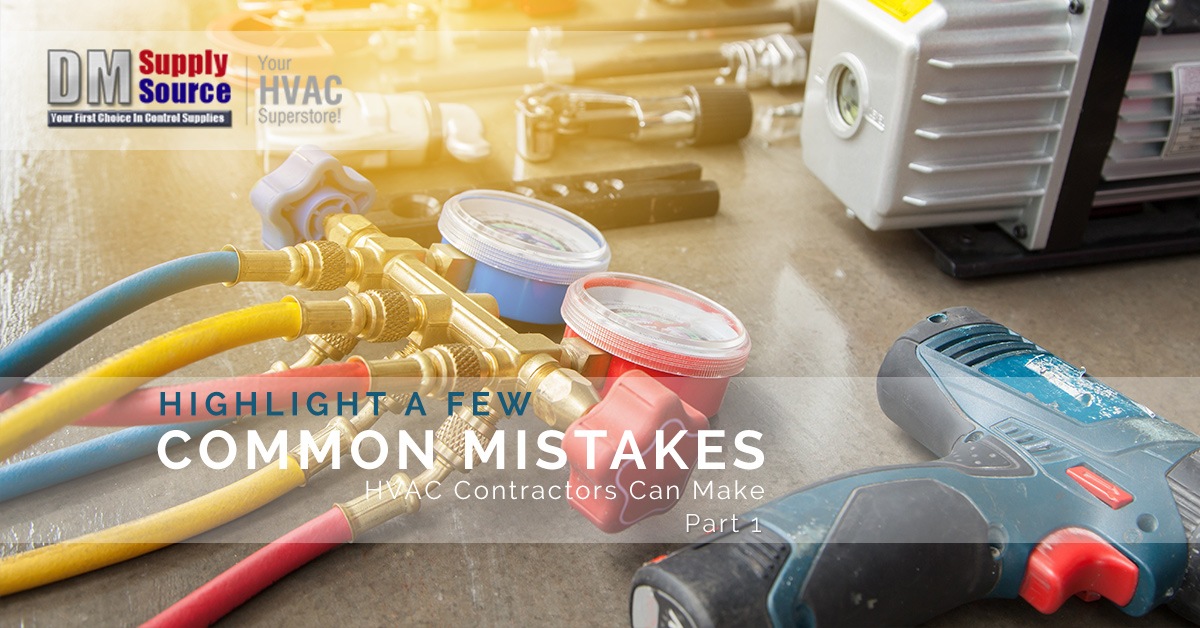 In our modern industry, there is a wide range of HVAC products and parts available to help consumers achieve the most efficiency and comfort in their homes. As such, it falls on contractors to have the right HVAC supplies and solutions to deliver the highest level of service to each client they assist. Your name relies on the quality of your work, and the outcome for your services will rely on having quality heating and cooling supplies on-hand to offer fast and effective solutions. DM Supply Source is here to be your heating and AC supply store, offering a vast inventory of components with expert knowledge to help you in delivering the best services possible to your happy customers.
We're all about delivering the highest level of customer satisfaction, yet we understand that nobody is perfect. HVAC experts are still human, after all. Today, we'll highlight a few errors that HVAC contractors have been known to make when caught up in their daily routines. When you are finished, be sure to shop our vast inventory of HVAC parts online to find the equipment you need.
Neglecting Airflow
One of the most common errors we've seen across the industry is relying too much on the box for optimizing the furnace and not the ducting. There are numerous tools and approaches that can help to maximize efficiency while reducing the strain put on heating and cooling systems, but in many cases, experts will not look to upgrade the ductwork to account for optimal air flow. It's important to ensure that your customer's HVAC system is not too strong for the square footage of their building, but beyond this, many people focus on the machine's output and not how efficient the airflow really is. Be sure to investigate the duct size to ensure that your client's home is benefitting from an adequate supply of air. Doing so will result in better short-term results and improved device longevity, both of which can help to retain your level of quality.
Not Focusing on Home Efficiency
Comprehensive customer care is becoming more and more prevalent in today's competitive marketplace, where HVAC companies that care often gain the edge over industry rivals. One way to ensure that you're receiving the best reviews for your hard work is to offer advice when inspecting your customer's home. From the furnace in the basement to the attic fan upstairs, you will be in close proximity to many components in the home that homeowners rarely check. Even if you are not an expert in insulation or framing, it can prove very useful to offer advice on areas in the home that can stand from improvements. Your customers will appreciate the heads up, and their impression of your dedication to quality may help in terms of return service calls. Be sure to be on the lookout for any areas in the home that may need improvement that your customers are not aware of!

Remembering Proper Ventilation
Comprising the second letter of HVAC, ventilation is an important part of the process that is often neglected to some degree. Today's high standards and energy codes have all combined to create a home that is nearly as efficient as possible, keeping your energy costs low while keeping the home protected. However, with today's air-sealed homes comes the problem of ensuring that proper ventilation measures are taken. Failure to do so can lead to serious moisture concerns later on, putting your customers at risk for health problems while also damaging the home's interior.
Mold growth can be a very expensive problem to rectify, and one that may be minimized when you are working on the home's ventilation system. Remember that there are three options available when working on mechanical ventilation:
Positive pressure
Negative pressure
Balanced pressure
There are many ways that we as HVAC professionals can improve our skills to deliver the best outcome for each customer. Next time, we'll continue this blog by discussing a few more mistakes commonly made by contractors in the heating and cooling industry. If you're in need of trusted HVAC supplies and advice, DM Supply Source is here to help. We're proud to be your Top Rated Local® HVAC supply store, and our team is always here to help ensure that you have the best product for the job. Contact us today for assistance or browse our massive inventory today to find your HVAC parts!